NEWS...
BACK...
28th March 2020
A strange first day of the Flat in the UK, as it's a non-starter and unlikely to be back until May. Our own first day back was behind closed doors and now even that has ended. As much as I couldn't wait to be over the cold turkey of the winter break, my first day back at Doncaster was always a bit subdued. As much as I fought it, the last day, at the same track, was always quite joyful and celebratory. I wrote a short story about it, The Last Post.
I'm managing to survive without seeing racehorses and very much enjoying having the family home and all safely working from our laptops here for the past two weeks. We're looking forward to another three weeks of it and will be sorry to return to normal service. It also means more time to devote to the novel-in-progress, Grey Motive, as I have no actual work to distract me! Happy days, in fact, despite that dreaded Lurgy!
15th March 2020
So much for looking forward to The Flat. Racing is taking place behind closed doors, although other sports have ceased completely, so we should be grateful for small mercies. The pre-season look at Aidan O'Brien's Classic hopefuls is now seriously at risk as well, but I know my top four there and I'm confident in how they would have progressed this winter. Saeed bin Suroor sends good reports of Military March, as well, back in serious work.
Slightly more upsetting is the cancellation of a lot of great music gigs. Even the International Ska Festival at Easter in Tramore has been postponed. With no racing and no gigs, I really will be able to get that book written!
11th March 2020
While all around me are soaking up Cheltenham, I'm getting excited about the first day of The Flat at Naas 29th March! I have The Derby and the Guineas entries to keep me occupied until then and, of the 139 Derby hopes, Innisfree is The One. Nobel Prize is in there too, Persia may prefer the St Leger and Shoshone Warrior needs to step up at three. A notable absentee is Military March, who will need to be supplemented but will look every inch the part come the Guineas. Roll on June!
I'm pleased to say March is also a good month for Sainte Bastien, which is in the running for Cover of the Month. It was selected for the shortlist and is now through to the final 50. Here's hoping! Cast your votes via links on my social media.
25th February 2020
As you can see from the dates, all in a day's work turns out to be nearer a fortnight's! Still, all clear now, so I may start to make a dent on that "this year" deadline I've set myself for my next novel, 'Grey Motive'. I'm happy with the storyline so far and I'm enjoying the characters involved, so no excuse but time to progress.
I'm still reeling a little from some of the features I worked on, particularly the research into substance abuse within the horseracing industry. Even now, it's only just sinking in that such abuse was at the root of the early demise of the friends I've lost to illness and suicide. We took so much for granted in our youth and saw nothing unusual in champagne diets and diuretics. That has now been recognised as a problem and support networks are in place. But sadly it's not the problem, merely the symptom, and the bigger problem is never going away.
14th February 2020
No sooner did Racing Certainty magazine go safely to print, other deadlines loomed! This week I've been busy interviewing vets about common procedures faced by racehorses and the great facility at the Irish Equine Centre. I've also researched substance abuse within the racing industry, which is truly heart-rending, and professional development options for the racing community. Just left now with the minor problem of attracting the next generation to the sport! All in a day's work…
6th February 2020
My good news of this week is that the magazine I edit and write for, Racing Certainty, was signed off and sent to print. It should be with you by the end of the month. It can also be read online if you follow the link on my USEFUL LINKS page. You may need to search for the 2020 issue. It was a real pleasure meeting with and interviewing those featured. It did limit the progress of Grey Motive, though, so it's now time to crack on with that.
1st February 2020
Gina Rarick has been having a successful Cagnes-sur-Mer campaign and it's fun to watch the horses racing past the beach. I don't often get to see a blue sky and blue sea! At the moment I'm pinned to my laptop, producing the Racing Certainty magazine, but I did get to complete a further 1,000 words of my next novel, Grey Motive. My work on the novel also included deleting about 1,200 previously completed words, so it's a bit of a case of one step forward, two steps back! Still, when it is finally finished it will be all the better for my fussiness.
19th January 2020
I spent a very productive and enjoyable day yesterday at the Writers' Centre, discussing with other professional writers the current issues facing Irish writers and those worldwide. I spoke about the many functions of the Writers' Union and must now set a goal of increased awareness of Public Lending Right. Few people realise the purpose is to compensate authors for the multiple loans of single copies and a specific budget funded by copyright licensing ensures this small remuneration does not come out of library budgets or Arts funding. Ireland has the lowest rate in Europe at 0.04ct, which means ten loans result in 4ct! It is 7p in the UK and the job now of the Union is to work on this discrepancy. Meanwhile, my personal goal to write at least 1,500 words a week of my novel "Grey Motive" has again been put off until next week!
For anyone following the stable of Gina Rarick, we had a good day yesterday, all five runners finishing in the money and one winner. No wonder Cagnes has been one of my favourite meetings since my teens.
14th January 2020
It has been a quiet time for Flat racing, so I enjoyed a visit to Coolmore Stud, catching up with old heroes. I will never forget Camelot's heroic St Leger defeat, standing watching in silence, breath held. He is one of the most professional horses I've been privileged to meet and he still is; that magnificent blend of playful interest and utter professionalism when called upon. Australia remains a sweet-natured, unflappable horse and, wow, what a looker Magna Grecia is! He and Churchill are so impressive. I also stopped in to see my young man, Sea The Stars!
This week saw the opening of the Cagnes-Sur-Mer Flat meeting and what a joy to watch horses racing past a pretty promenade and beach, especially from a cold, grey and thoroughly wet Ireland! I am following the stable of Gina Rarick and having lots of fun cheering home her horses.
I have also been busy with various interviews, about my books and writing in general. My advice, as always, to would-be writers is don't waste time analysing or learning theory, just sit down and write the book you want to read. If you enjoy writing it, and will enjoy reading it, then so will others.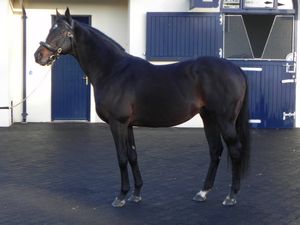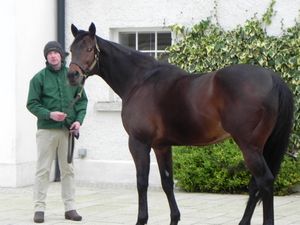 4th January 2020
Happy new year to everyone, may it be enjoyable and healthy. I'm busy working on a new, improved website, so hopefully there will be more photos and stories to share in the coming weeks. Plenty of Innisfree - the horse, not the place! I'm also determined to get Grey Motive, the novel-in-progress that hasn't been, back underway and finished! But first my new year kicks off with the first of my regular slots on the UK's Chat And Spin radio on Tuesday (7th) at 5.20pm, when I will be chatting about one of my books. Friday will then find me on hallowed ground, viewing stallions at Coolmore Stud. I can't wait to catch up with some equine friends and heroes. Lots to look forward to for 2020!
3rd November 2019
Last day of the Flat today at Naas and I had thought the biggest draw would be Nobel Prize. As it was, a very close second, both in the parade ring beforehand and in the race, was Chiricahua. A lovely colt and a lot to look forward to next year. A definite Classic prospect, but 10f could be his maximum on paper. Nobel Prize remains a Derby colt, but I think his stablemate Innisfree is the better prospect. I haven't seen Kameko in the flesh, but he has always looked a lovely colt and if he could get more than 10f he has already proved himself superior to Innisfree. However, that's a big if. My Derby dreams will be with Innisfree.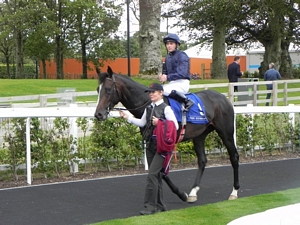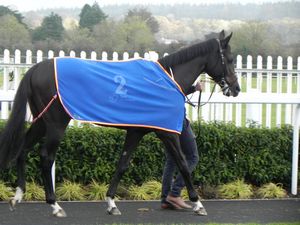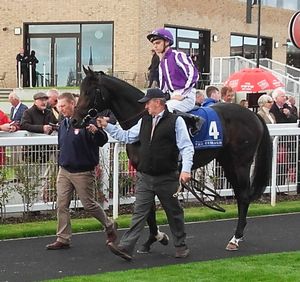 20th October 2019
How can I be disappointed by Stradivarius, when he ran another great race to go down so narrowly to my beloved Kew Gardens? Stradivarius thought he'd won, so no disappointment for him! He came in yelling his delight! I know my Kew doesn't like soft ground, so I'm very proud of him. A great run from two of my favourites, followed by a third favourite, the adorable Star Catcher, who then gave Frankie his 250th Group One winner and will remain in training next season. Fantastic! Then Magical left Aidan O'Brien with only two elusive British Gr1s to obtain (King's Stand & Sprint Cup), giving him his first Champion Stakes. Japanese heroine Deirdre ran well for third. Not such an anti-climax after all, but we've only the Futurity Stakes left now. Only Cagnes-Sur-Mer to look forward to thereafter!
19th October 2019
For me, the racing season ends on Arc day. We are building toward The Derby and Classics all winter, but the Arc is always the holy grail on the horizon, the one race that separates the season's champion from the good ones. This year we may have seen the champion on the wrong side of the separating line, but all credit to the wonderful Waldgeist for having the finishing turn of foot to defeat the mighty Enable.
After the Arc, all else is an anti-climax. We have our champion and are merely sorting out the minor medals. I'm a great one for tradition and remembering winners of old, so while the Champion Stakes still excites me, the Breeders Cup has a long, long way yet to go. If I were ever an owner, I'd have no interest in having a runner there. A top-class horse should end its season at Longchamp or Ascot (grudgingly), the Champion Stakes will always be at Newmarket in my heart! A top-class horse should be racing, so to see Enable return to race as a six-year-old is the highlight of this season and there is no reason why she won't get her third Arc in the end.
Looking back on the season so far, once again the sprinters haven't established a true champion, and the three-year-olds haven't been outstanding, but for the first time in many years we have a true champion stayer and I will settling down now to cheer on Stradivarius. I hope the ground doesn't get him, but he hates to lose and will fight to the finish. It will take a brave horse to pass him!
1st October 2019
Ireland's Future Champions Day at the Curragh didn't disappoint and seeing Innisfree could be my highlight of the season. Definitely a future Classic horse, if not a champion. He reminds me very much in build and expression of a past champion, often overlooked, High Chaparral. He has shot to the top of my Derby list and is my idea of the winner. Persia, Nobel Prize and Shoshone Warrior are three other very nice Derby prospects and I haven't lost faith in the Guineas prospects of Lope Y Fernandez, but Earthlight definitely looks the one to beat if everyone catches up with, and overtakes, Pinatubo at three.
26th September 2019
Irish Champions Weekend never disappoints and I had the added treat of meeting the Japanese filly, Deirdre, following her excellent run in the big race itself. We are honoured to have hosted the first Japanese-trained runner in Ireland and I hope more follow in her hoof steps. I'm so excited about the all-two-year-old card at the Curragh this Sunday, where we will be on one of our final watches for next year's champions! Last year was an easy one, but frustrating, spent looking for a Derby horse rather than assessing any. I liked Magna Grecia, Quorto, Advertise (milers) and Anthony Van Dyck, our only Derby colt, but I thought the UK or France must surely have a better one. I didn't think Madhmoon looked to have scope, but he grew in muscle more than height over the winter and pleasantly surprised me. The fillies, in stark contrast to the colts, were a lovely bunch. The really good Classic types start to emerge September and October, and yet already I have a nice list and a lot to be assessing. It really has been a busy season and no day more so than a Curragh card with four juvenile races, two of which were Group class, from which no fewer than 22 horses went into the notebook! Considering 21 got noted over the whole of Royal Ascot, it shows the strength of card. Six more got added at a later meeting and another at Champions Weekend. I note only the better-quality horses who may be Classic contenders next year. The ordinary ones, or precocious 2yos, aren't part of my job description, so often you'll find on my list the 5th or 8th in a race but not the winner. Today's result is rarely a factor in next year's predictions. Stay tuned to The Diary for an end-of-season update as the 2020 Classic horses get finalised on my list! How high will Persia, Nobel Prize and Lope Y Fernandez be, or will Earthlight set the scene for the Year of the French?
3rd September 2019
It was a hectic evening's work at the Curragh two meetings ago, with a great many really promising 2yos on view, several who could be Classic prospects next season. Things got even more exciting at the next meeting and last Friday evening the stars really came out! The rather ordinary Mogul might have won, but it was those behind him who set the heart pounding. Shoshone Warrior looks a very good Derby prospect, while Nobel Prize could be The Derby winner himself. And look no further than Lope Y Fernandez for the Guineas. Pinatubo is the better 2yo, but tables will turn next year at three.